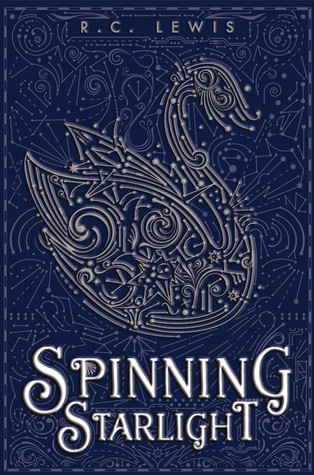 RC Lewis
Sixteen-year-old heiress and paparazzi darling Liddi Jantzen hates the spotlight. But as the only daughter in the most powerful tech family in the galaxy, it's hard to escape it. So when a group of men show up at her house uninvited, she assumes it's just the usual media-grubs. That is, until shots are fired.




Liddi escapes, only to be pulled into an interplanetary conspiracy more complex than she ever could have imagined. Her older brothers have been caught as well, trapped in the conduits between the planets. And when their captor implants a device in Liddi's vocal cords to monitor her speech, their lives are in her hands: One word and her brothers are dead.




Desperate to save her family from a desolate future, Liddi travels to another world, where she meets the one person who might have the skills to help her bring her eight brothers home-a handsome dignitary named Tiav. But without her voice, Liddi must use every bit of her strength and wit to convince Tiav that her mission is true. With the tenuous balance of the planets deeply intertwined with her brothers' survival, just how much is Liddi willing to sacrifice to bring them back?




Haunting and mesmerizing, this retelling of Hans Christian Andersen'sThe Wild Swans strings the heart of the classic with a stunning, imaginative world as a star-crossed family fights for survival in this companion to Stitching Snow.
Note: I got this as an eARC from NetGalley.
Eight is an important number in 'Spinning Starlight', so I decided to make this post about eight things to love about this book. (Not that I don't have things I disliked.)
1) The Retelling
I really liked the comparisons to the original fairy tale. I like the original 'The Wild Swans'. It definitely is a fairy tale about family.
The comparisons were pretty simple. Missing brothers. Lost voice. Etc etc etc. The fact that the fairy tale was adapted was pretty awesome in my book.
2) Liddi's personality
I truly loved Liddi's character. She was brave. She went into the unknown for her family. She was dedicated. She gave birth to some awesome ideas. (Non-fashion related, of course.) She was a great and admirable character. Definitely not the usual ditzy heiress. (Or even the rude one. Ehem Eadlyn ehem.)
3) Romance's slow build
I hate insta-love. Hate it. When this book introduced a slow-moving romance, I was thrilled. 'At last,' I thought, 'a slower romance!' (Not that I haven't read slower-moving romances before. I have. This was just nice.)
I may not have loved the romance, but I loved the slow build.
4) Tiav's love for Liddi without knowing who she is
He didn't care who she was before they met. He could barely communicate with her. He loved her anyways. I thought that was interesting. He saw past the Liddi Jantzen everyone else saw. He saw her. (Cheesy, I know. Spare me.)
5) Brotherly love
I'm an only child. I don't know how older brothers are supposed to act. If I had older brothers, though, I wish they were like Liddi's. These guys were cool. Smart and kind. Warm and loving. They are what I think older brothers are supposed to be. I loved it.
And I appreciate it when books have an emphasis on familial love. Family is forever, you know?
6) The memories
These memories really gave depth to Liddi's relationship with her brothers. (All of them.) They showed family. And love and care. The brothers' love of Liddi really showed.
It was a nice peak into why Liddi cared so much about rescuing her brothers. (Other than the fact that they are her brothers.) Without it, I might have wondered why. (Only child thinking.)
7) The world and tech
The streamers. The Khua. It was so cool. I loved it. The futuristic world was interesting. I loved the advancements in technology. I wanted to live in this world. (After the book, of course.)
8) Liddi's growth
Liddi really grew in this book. She was some paparazzi girl in the beginning. She went to fashion shows and wore expensive jewels. As time wore on, she discovered her potential. She discovered her genius. I really admired her transformation. It was truly amazing.