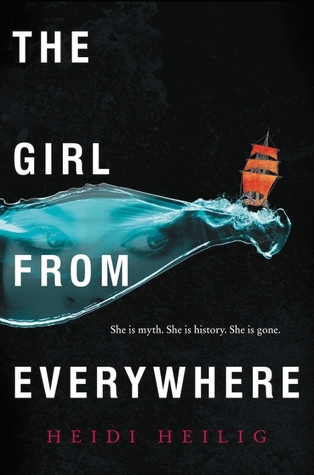 The Girl From Everywhere
Nix has spent her entire life aboard her father's ship, sailing across the centuries, across the world, across myth and imagination.
As long as her father has a map for it, he can sail to any time, any place, real or imagined: nineteenth-century China, the land from
One Thousand and One Nights
, a mythic version of Africa. Along the way they have found crewmates and friends, and even a disarming thief who could come to mean much more to Nix.
But the end to it all looms closer every day.
Her father is obsessed with obtaining the one map, 1868 Honolulu, that could take him back to his lost love, Nix's mother. Even though getting it—and going there—could erase Nix's very existence.
For the first time, Nix is entering unknown waters.
She could find herself, find her family, find her own fantastical ability, her own epic love.
Or she could disappear.
This book was one of the most anticipated 2016 debuts. Not just for me but for a lot of people. I'd seen the rave reviews. But when I first started this, I was in a slump. A very bad one, I might add. While this didn't pull me out of said slump, I did quite enjoy this book.
Likes:
Kashmir was the bomb dot com. He was sassy and brash and loud. I adored his character. (Not that I'd date Kash. I'm spoken for. Twice over.) He was somebody I'd like to be friends with, though. He'd be a good support system. He really did care for Nix. I could rely on a person like Kash. Honestly, if this book was in his perspective, I'd love it a lot more. (Because I don't love Nix. More on that later.)
Blake had his moments too. He was shy but sweet. His ideals, though, were a bit of a sour point for me. If I had to choose between Kash and Blake, I'd choose Kash as my best friend but Blake as my boyfriend. Why? Blake was steady. A rock. Kash would fly free, but you could fall back to Blake. Always.
I love fantasy. The dragons and monsters. Ah, just thinking about it makes me happy. And a time traveling pirate ship? Score! While I loved the idea, the actuality was less than lacking. There wasn't a lot of time traveling. Which stinks. I was looking for an adventure. Not a we'll-stay-here-for-the-rest-of-the-book. I don't even know what that is. But I'll still give the idea brownie points for creativity.
Dislikes:
The plot was kinda dull. I wanted something with more action. I mean...a time traveling pirate ship and no trouble? Impossible. I wanted swashbucklers on swashbucklers. Not boring heists. (And they were very boring. Nix doesn't get to do anything fun.) I wanted more time travel. Where was the time travel? Moreeee

please!

Nix was smart. I'll give her that. And very resourceful. But other than that...not very amazing. I didn't love her relationship with Slate. She didn't understand. He loved Lin. And he wanted nothing more than to return to her. What would you do as Slate? Have a broken heart forever? How about no? So I sorta agreed with Slate. (But he wasn't a saint either. He did do some bad things.) I found Nix was too whiny for my tastes. She was just a mopey, teenage girl. Not my favorite type of protagonist. But Kash would be fantastic as a protagonist. Just switch their roles and life would be better.