We missed the train to Princeton to see graduation. (Just to see graduation. I don't know anyone graduating. Yes. That's creepy. I know.)
We went to Port Authority bus terminal and ended up taking the subway to the Strand. Again. (You gotta love that place. I do. They don't mind if you read.)
I found the following books. I read 'Drama' first. It was just sitting there. I didn't remember reading it. (I read 'Smile' a few years back.) I enjoyed it. It wasn't bad.
Then, I lurked through the shelves and discovered 'Daughter of Smoke and Bone'. Which I've been meaning to read. So I cracked open the spine and started to read it. (Review to come.)
Drama

Raina Telgemier
PLACES, EVERYONE!
Callie loves theater. And while she would totally try out for her middle school's production of
Moon Over Mississippi
, she can't really sing. Instead she's the set designer for the drama department stage crew, and this year she's determined to create a set worthy of Broadway on a middle-school budget. But how can she, when she doesn't know much about carpentry, ticket sales are down, and the crew members are having trouble working together? Not to mention the onstage AND offstage drama that occurs once the actors are chosen. And when two cute brothers enter the picture, things get even crazier!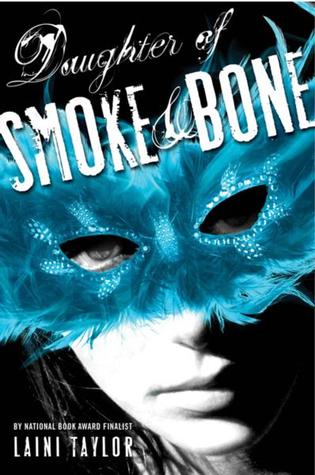 Daughter of Smoke and Bone

Laini Taylor
Around the world, black handprints are appearing on doorways, scorched there by winged strangers who have crept through a slit in the sky.
In a dark and dusty shop, a devil's supply of human teeth grows dangerously low.
And in the tangled lanes of Prague, a young art student is about to be caught up in a brutal otherwordly war.
Meet Karou. She fills her sketchbooks with monsters that may or may not be real, she's prone to disappearing on mysterious "errands", she speaks many languages - not all of them human - and her bright blue hair
actually
grows out of her head that color. Who is she? That is the question that haunts her, and she's about to find out.
When beautiful, haunted Akiva fixes fiery eyes on her in an alley in Marrakesh, the result is blood and starlight, secrets unveiled, and a star-crossed love whose roots drink deep of a violent past. But will Karou live to regret learning the truth about herself?