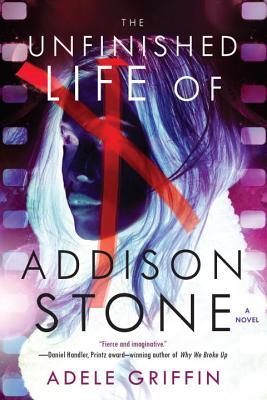 The Unfinished Life of Addison Stone
Adele Griffin
A YALSA Best Fiction for Young Adults Selection
An Amazon Best Book 2014
A Junior Library Guild Selection
Booklist Top Ten Arts Books for Youth
A School Library Journal Best Book 2014
A Romantic Times Finalist for Book of the Year
A Chicago Public Library YA Book of the Year
National Book Award-finalist Adele Griffin tells the fully illustrated story of a brilliant young artist, her mysterious death, and the fandom that won't let her go.
From the moment she stepped foot in NYC, Addison Stone's subversive street art made her someone to watch, and her violent drowning left her fans and critics craving to know more. I conducted interviews with those who knew her best—including close friends, family, teachers, mentors, art dealers, boyfriends, and critics—and retraced the tumultuous path of Addison's life. I hope I can shed new light on what really happened the night of July 28.
—Adele Griffin
___________________________________________________________________________
On a principle, I don't read nonfiction. Why? They don't catch my interest. This story did. Maybe it's because my copy was an ARC. Maybe because it was cheap. I'm not sure. But this story...this girl who was a burning star. Goddammit. I'm not sure.
This review has to be different. It's because how it's written. It's nonfiction. Which makes it complicated.
Addison was a fascinating person. She was burning. A burning star. She was eccentric. Crazy. Wild. I thought she was fascinating. But not someone I would friend. She was someone who was wild. She did whatever she wanted to do. Nothing held her back. She thought her acts were art. Magic. She thought she was the queen. She was queen. Who am I kidding? Addison Stone was some sort of queen. Queen of what? No clue at all. She was so eccentric. Seeing her life. What she did. That was amazing.
She was so young. So young. Gosh. I can't believe it. How old was she? Eighteen? Nineteen? So young. Just a kid. I can't believe her talent. Her unicorn drawing from age SIX. It's better than some adults with experience. She saw so much. She saw the world and back. How did this little girl see so much?
What happened? I'm not sure. Her life was so complicated. I want to say this is the plot...but then again...this isn't fiction.
She had so many things happening. So many different things. It was confusing. And hard to keep track. I wanted to keep track. But couldn't. She was an artist in her town. Famous. Won many competitions. And then she was in New York. And doing crazy things at parties. At classes but not at classes. It was crazy. Her life was a wild ride.
And the question is...how did she die? I don't know. I don't think I got enough about Lincoln Reed or Zach Frat to say either of them did it.
They might have fought. They might have said things. They might have pulled Addison over the edge. But how she died is still a mystery.
This is my opinion.
It was an accident. She had scars. She had Ida. She had pain. But she didn't seem to want to jump. She slipped trying to make another masterpiece.
This book isn't the podcast Serial. It's not Serial at all. But we do see Addison's life. Eccentric. Crazy. Which is different.