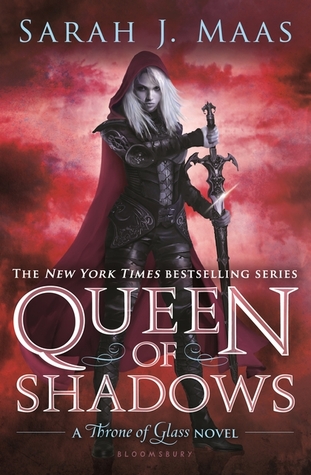 Sarah J Maas
The queen has returned. Everyone Celaena Sardothien loves has been taken from her. But she's at last returned to the empire—for vengeance, to rescue her once-glorious kingdom, and to confront the shadows of her past . . . She has embraced her identity as Aelin Galathynius, Queen of Terrasen. But before she can reclaim her throne, she must fight. She will fight for her cousin, a warrior prepared to die for her. She will fight for her friend, a young man trapped in an unspeakable prison. And she will fight for her people, enslaved to a brutal king and awaiting their lost queen's triumphant return. The fourth volume in the New York Times bestselling series contrinues Celaena's epic journey and builds to a passionate, agonizing crescendo that might just shatter her world.
Note: This review will be full of spoilers.
This review is, essentially, my thoughts as I went through the book with a broad topic as the title and a page number. Enjoy!
When Aelin sees Chaol in the Vaults
Page 11
I'M SHOCKED. CHAOL.
WILL CHAOLENA SURVIVE???
Chaol and Aelin talk
Page 54
Well den
-cries softly-
The ship is sinking. I repeat. The ship is sinking.
Manon's appearance
63
Oh look. It's the witch.
Mild interest.
Dorian
87
Oh my gosh. What happened to precious Dorian?!?!
The Duke wanting a Valg-witch child
101
AWWE SHIZZ.
Nesryn wanting to tell the family of the man about his passing
127
Wow. Like Castle. Kinda.
Aelin's wardrobe change
143
I wish I could change that quickly...
Aelin fighting
147
I never doubted Aelin's powers of killing. NEVER
Dorian admitting he tried to fight
176
Thank you, Dorian. My faith in you is restored. Fight, bro. Fight.
Chaol complaining about Arobynn giving him some Valg dudes to follow
194
Man up. It's what you wanted. Isn't it?
The stones on the grave
199
Ooh. Awesome. I'd love to do that.
The miracle of Aelin's scent
213
Holy pizzacake. SMELLING HER?!?! Creepy, much?
Rowan
233
Wow. I'm guessing the RowanXAelin ship will be fulfilled here.
Flicking the nose
235
If this was anyone else, his hand would be chopped off by now.
Dominance battle
244
I'd buy tickets to see that.
Music is my soul
295
I think I want to cry.
Sam
326
I'm gonna cry. Yeah. I'm gonna cry.
Asterin after hearing about the Yellowlegs
334
As much as I'd hate to confront Manon...Asterin is right to fight back.
Aelin's deception
362
Wow. I never realized Aelin was THAT smart. Wow.
Celaena is the heir
383
You're a rich woman now, Aelin.
Deception
387
Devilish woman.
Thinking about naked Aelin
400
Hahahaha. RowanXAelin shippers are in a frenzy now.
Erawan
416
HOOOLLLYY.
Sexual tension
436
Holy pizzacake. I've never read that much sexual tension between any characters. Ever. And they were barely talking about sex. Whoa.
Rowan's shot!
477
I didn't even know that Rowan could be hit. Huh. Not so perfect after all
Manon v. Aelin
480
In all honesty, I couldn't predict this. These two are too evenly matched. It's a battle made in heaven!
Asterin's Confession
504
I feel so much for Asterin. The poor girl...
Lysandra and Evangeline are free
510
Aelin. You little rascal. I love you for this.
Elide is alone
512
I want to grab this poor girl and hold her close. She has it bad. Bad.
Chaol and Aelin have a heart-to-heart
520
I feel like this gives me closure. Even though I'm not Chaol or Aelin. It gives me closure. Somehow.
The poor Chaolena fans, though. I've always been Team Aelin.
The promise to live
523
Does this mean everyone will pair off? Who will Aedion be with, I wonder.
Scents
525
Fae have a creepy obsession with scents...
The three males who meant everything
532
Her harem
Celaena is back
538
Does this mean they don't know that Aelin and Celaena are the same person?
The Wyrdhounds
545
Oh man. Oh man oh man oh man. That's not good. That's not good!
Jumping out of the window
554
It's a bird! It's a plane! It's Aelin! And...Dorian?
The shapeshifter
568
Lysandra is STRONG. Oh my gosh.
Battle united
570
This is the coolest battle ever. Ever.
He's back
573
Can I cry? This is beautiful.
Manon returns
590
Manon really cares about Elide. That's adorable. I'm shipping the two of them now.
Kaltain's sacrifice
602
Thank you, Kaltain. Thank you.
Lysandra vomiting
606
Lysandra definitely knows how to make an impression.
Everyone is pairing off
613
Wow. Everyone is pairing off.
Elide
627
I have so much respect for this girl. She fought. She survived.
I can't wait to see what happens next.
Goodbye
639
Oh my gosh. I'm gonna cry. I know I've said it a lot. But this book is an emotional roller coaster.
The end
645
I hope this is the end because the book ended on such a good note. I will read another book from this series, but I might emerge with tears in my eyes and a hole in my heart.
Sarah J Maas, I don't think any of us TOG fans can handle more heartbreak.