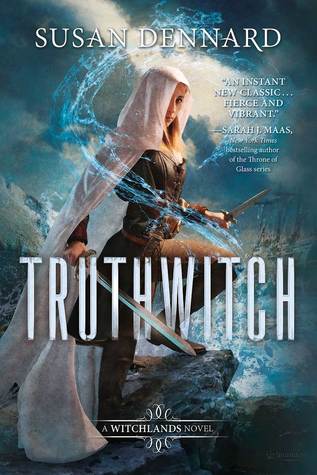 Truthwitch
On a continent ruled by three empires, some are born with a "witchery", a magical skill that sets them apart from others.
In the Witchlands, there are almost as many types of magic as there are ways to get in trouble—as two desperate young women know all too well.
Safiya is a Truthwitch, able to discern truth from lie. It's a powerful magic that many would kill to have on their side, especially amongst the nobility to which Safi was born. So Safi must keep her gift hidden, lest she be used as a pawn in the struggle between empires.
Iseult, a Threadwitch, can see the invisible ties that bind and entangle the lives around her—but she cannot see the bonds that touch her own heart. Her unlikely friendship with Safi has taken her from life as an outcast into one of reckless adventure, where she is a cool, wary balance to Safi's hotheaded impulsiveness.
Safi and Iseult just want to be free to live their own lives, but war is coming to the Witchlands. With the help of the cunning Prince Merik (a Windwitch and ship's captain) and the hindrance of a Bloodwitch bent on revenge, the friends must fight emperors, princes, and mercenaries alike, who will stop at nothing to get their hands on a Truthwitch.
LIKED:
Safi's character was pretty interesting, but I wanted more

. There was a part that showed her true emotions. Her insecurities. I loved that. I wanted more of that. I am always interested in characters that are unsure of their place in the world and have to figure that out. Safi's brashness was a bit of a turn-off for me, because she was acting so rude. And she has motivations to do that. But we didn't learn a lot about her thoughts and motivations.

The world was exciting. There was magic and trade agreements and war. I was extremely excited about the war actually. What happened? How did it start? Why twenty years of peace? Sadly, I didn't get answers to these questions. But the world has potential to be expanded upon. There were many kingdoms where many things could happen. Of course, the key word is could. The potential is good enough for now.
The friendships pulled me right in. I always love friendship stories. And this book's friendship was no exception. Safi and Iseult would do anything for each other. I want a friendship like that. Who am I kidding? I have a friendship like that. I would do anything for my best friend Jenna. She's my Threadsister. We'd do anything for each other. That's how close we are. This friendship in the book reminded me of my friendship. Made me feel a little homesick. But in the good way.
Disliked:
The romance was unbelievable. They barely knew each other. And why did you like each other? Angriness? (Also. I didn't like how almost all the characters introduced had 'rage in their hearts'. I'm an angry person, but I highly doubt everyone wants to rip things apart to the point of death. Because anger issues? Haha. No.) These two fought. A lot. I don't care what you say about opposites attracting or that thing the people do when they like each other. They would seriously rip each other apart. And we didn't find much deeper meaning to either of them. Merik at least had motivation. Safi was just cruising along. Seriously, why was she going along with this plot? No one told her to. Geez.
Lack of info kept me struggling. I felt like I was missing something, maybe a first book. The world wasn't built that well. I had questions about the world. Mostly questions based on the war. Why? Who? When? What? Basic questions I had but weren't answered.
There were so many types of witches and so many types of magic. I needed a map or a chart to keep track of everything. It was too much to swallow. I needed something simple. Maybe the elemental magics would be together and then aether and void together. We didn't get any information about what aether and void are. I wanted to know, but I didn't get any answers.