Today, we have a guest poster for the Summer Blog Promo Tour. This was originally started by The Book Bratz. Check them out here. Without a further ado, here's Divya from Endless Pages.
~~~~~~~~~~~~~~~~~~~~~~~~~~
Hey guys! Tell me, is there anyone who's reading this post right now NOT love travelling? Going with our friends, seeing new places, and learning more about new cultures and places? That'd be so wonderful. So, even if I don't get to travel often IRL, I make up for it by reading books about travelling. So, without further ado, let me tell my favorite travelling reads, and the ones which are in my TBR!
MY FAVORITE TRAVELLING READS:
Percy Jackson is a good kid, but he can't seem to focus on his schoolwork or control his temper. And lately, being away at boarding school is only getting worse-Percy could have sworn his pre-algebra teacher turned into a monster and tried to kill him. When Percy's mom finds out, she knows it's time that he knew the truth about where he came from, and that he go to the one place he'll be safe. She sends Percy to Camp Half Blood, a summer camp for demigods (on Long Island), where he learns that the father he never knew is Poseidon, God of the Sea. Soon a mystery unfolds and together with his friends -- one a satyr and the other the demigod daughter of Athena -- Percy sets out on a quest across the United States to reach the gates of the Underworld (located in a recording studio in Hollywood) and prevent a catastrophic war between the gods.
This book goes without saying. Almost all of the books in the PJO and Heroes of Olympus series feature road-trips (or Argo-trips or Festus-trips), and all of them are awesome. Riordan is the king of mythology AND travel :D Seriously, if there's anyone who's not read this series yet, go! Read it! AND THEN COME TELL ME WHAT YOU FEEL.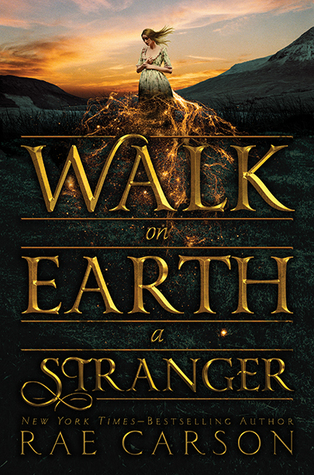 Gold is in my blood, in my breath, even in the flecks in my eyes. Lee Westfall has a strong, loving family. She has a home she loves and a loyal steed. She has a best friend—who might want to be something more. She also has a secret. Lee can sense gold in the world around her. Veins deep in the earth. Small nuggets in a stream. Even gold dust caught underneath a fingernail. She has kept her family safe and able to buy provisions, even through the harshest winters. But what would someone do to control a girl with that kind of power? A person might murder for it. When everything Lee holds dear is ripped away, she flees west to California—where gold has just been discovered. Perhaps this will be the one place a magical girl can be herself. If she survives the journey. The acclaimed Rae Carson begins a sweeping new trilogy set in Gold Rush-era America, about a young woman with a powerful and dangerous gift.
This book is one heck of a genre mishmash and I LOVED IT! Almost all my favorite tropes were included in it, and I was flailing throughout it. Read it, you all!
BOOKS IN MY TBR:
When sixteen-year-old Luke's book, Hallelujah, becomes a national bestseller, his publishing house sends him on a cross-country book tour with his older brother, Matt, as chauffeur. But when irresponsible Matt offers to drive Luke's ex–soul mate, Fran, across the country too, things get a little crazy. On the trip, Luke must loosen up, discover what it truly means to have faith, and do what it takes to get the girl he loves. Told with Antony John's signature wit and authenticity, and featuring smart, singular characters who jump off the page and into your heart, this story is a spiritual awakening and rockin' road trip in one.
I've read and loved Antony John's Five Flavours of Dumb (featuring a deaf girl as the manager of a band), and am very excited to read TSNRT. I hope this is as good as FFoD!)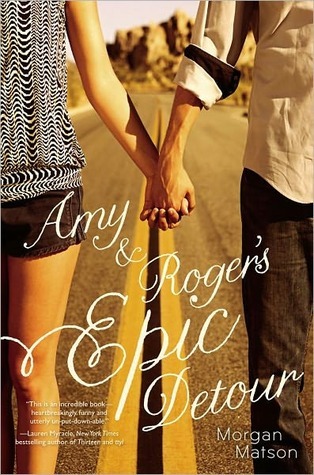 Amy Curry is not looking forward to her summer. Her mother decided to move across the country and now it's Amy's responsibility to get their car from California to Connecticut. The only problem is, since her father died in a car accident, she isn't ready to get behind the wheel. Enter Roger. An old family friend, he also has to make the cross-country trip - and has plenty of baggage of his own. The road home may be unfamiliar - especially with their friendship venturing into uncharted territory - but together, Amy and Roger will figure out how to map their way.
Everyone and their dogs have read and loved this book to pieces, and I don't even know what's stopping me from reading this. I hope I'll fall in love with it too!
Eighteen-year-old Castaway Planet fans Brandon and Abel hate bad fan fiction—especially when it pairs their number-one TV crushes of all time, dashing space captain Cadmus and dapper android Sim. As co-runners of the Internet's third most popular Castaway Planet vlog, they love to spar with the "Cadsim" fangirls who think Cadmus will melt Sim's mechanical heart by the Season 5 finale. This summer, Brandon and Abel have a mission: hit the road in an RV to follow the traveling Castaway Planet convention, interview the actors and showrunner, and uncover proof that a legit Cadsim romance will NEVER, EVER HAPPEN. A Brandon and Abel romance: also not happening. Brandon's sick of his struggle to make "gay and Catholic" compute, so it's safer to love a TV android. Plus Abel's got a hot new boyfriend with a phoenix tattoo, and how can Brandon compete with that? But when mysterious messages about them start popping up in the fan community, they make a shocking discovery that slowly forces their real feelings to the surface. Before they get to the last Castaway Planet convention, Brandon's going to find out the truth: can a mechanical heart be reprogrammed, or will his first shot at love be a full system failure?
Doesn't this book sound like the most wonderfulest thing of ever? I'm in love with the cover and the blurb and I know I'll love the story too when I finally get around to reading it. Also, almost everyone who read this loved it, and that only just makes me get even more excited for it!
That's all I have for you! Thank you, Wren, for having me here today!
About:
Hello everyone! I'm Divya, a fifteen-year-old bookworm from India. When I'm not reading, I can usually be found listening to music, or procrastinating on my homework ;) I'm a fan of all things Marvel and superheroes. Connect with me on my blog Endless Pages, or find me on Twitter: @literary_dragon